Want to be a Character in a Murder Mystery?! Join us on New Years Eve…
EXPERIENCE YOURSELF as a SUSPECT in a tasty, tongue-in-cheek, live-action role playing murder mystery, The End of Thyme!
The setting is MONKSHOOD, OR, a quaint, small college and retirement town in ruralish Oregon ~ a place where the rich get richer and the poor, well, they go to work in the underworld of Monkshood! Everyone (no matter their PLACE in life!) is stunned by the recent news of the unthymely death of the community's Card Reader to the local elite, the Great Sage Rosemary N. Thyme!
CLICK HERE to learn more and book your character role today!
Visit Our Online Store!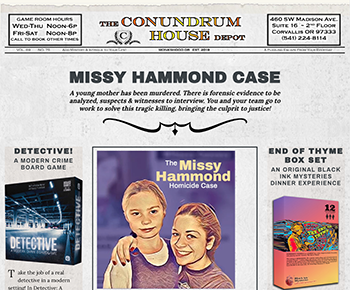 Visit https://conundrum.house to shop our full line of table top games, buy Daily & Weekly Passes, purchase a membership, order mystery-oriented merchandise, and more!
Dec
31
Tue
The End of Thyme (New Year's Eve version)

@ Conundrum House
Dec 31 @ 6:00 pm – 9:00 pm
Thyme has been Killed,
and You've Been Summoned
to the Reading of Her Will
By all witness accounts, The Great Sage Rosemary N. Thyme was a tragic victim of a Hit-and-Run. But rumor has it that the police are saying it's murder! Either way, Thyme's death proves problematic to her top-shelf clients as it happened during a Grand Jury investigation into racketeering, with many of the Sage's clients implicated in the wrongdoings. YOU have been invited by one of Sage's most beloved and high-profile clients, Roxie "Red" Pepper, multimillionaire owner of surprisingly lucrative franchise chain "Pepper Shaker Produce and Laundry Company of Oregon", to the reading of the Sage's will. It is an invitation you cannot refuse…
Who Will You Be?
 OUR REGULAR HOURS


Wed & Thu: NOON to 6:00p   |   

Fri & Sat: NOON to 8:00p
 RESERVATIONS @ OTHER TIMES


Call (541) 224-8114 or e-mail: librarian (at) conundrumhouse (dot) com
 OUR ADDRESS


460 SW Madison Avenue | 

2nd Floor, Suite 16 | 

Corvallis OR 97333
We cater to club members of all ages, so you will find the classic board game Clue in many of its variations, including Clue Jr., on our library shelves. You'll also find CSI the Board Game and others.
RPGs = Role Playing Games, which are board games with the added twist of each player taking on a unique role that goes beyond a piece on the board. In an RPG players have motives unique to their characters. Mysterium and Sherlock Holmes Consulting Detective are two games that fall into this category. 
Mystery jigsaw puzzles go way beyond the norm. These jigsaws come with a story, and the puzzle contains the clues players need to solve the mystery that unfolds in the accompanying story booklet. In our rental library we carry BePuzzled and Alfred Hitchcock mysteries among others. In the library we also have available wooden puzzles by Corvallis resident Jeremy Smith. These are a bit like tetris, only in 3D.
Mail order mysteries come in a wide variety of experiences – from a single boxed or enveloped set of seemingly random clues like newspapers, posters and other printed ephemera, to a series of mailings that include crated artifacts vital to solving the mysteries. There are many imaginative companies producing subscription box mysteries including The Mysterious Package Company, Hunt a Killer and Dispatch. We've a couple of these in our library, and offer group "buy-ins" to the more elaborate, and expensive experiences that many of us cannot afford to buy for ourselves on a regular basis. 
Before there was Conundrum House, there was Black Ink Mysteries™. Black Ink Mysteries specialized in creating original live-action role playing (LARPs) who-and-howdunnits for military personnel stationed on the tiny island of Okinawa. Adrienne wrote her first LARP, The End of Thyme, as a small dinner party game in the flavor of the tongue-in-cheek bookcase games of the early 90s. Other themes ran the gamut from a 1930's Hollywood murder mystery, to a turn-of-the-century circus story, to a juke joint in the Mississippi Delta. We're reviving those LARPs, putting them through a rewriting process and producing live events at Conundrum House and other locations. Our first event is May 18, 2019, and is the rewrite of the very first murder mystery written by Adrienne in 1987, The End of Thyme. You can buy your seat at the table today by CLICKING HERE.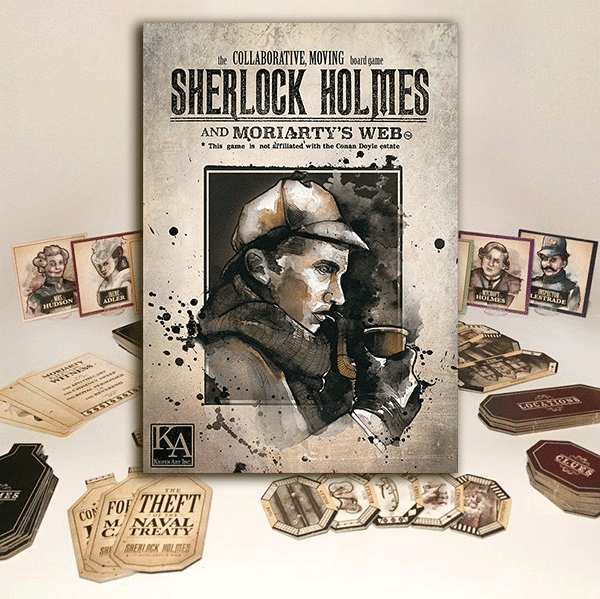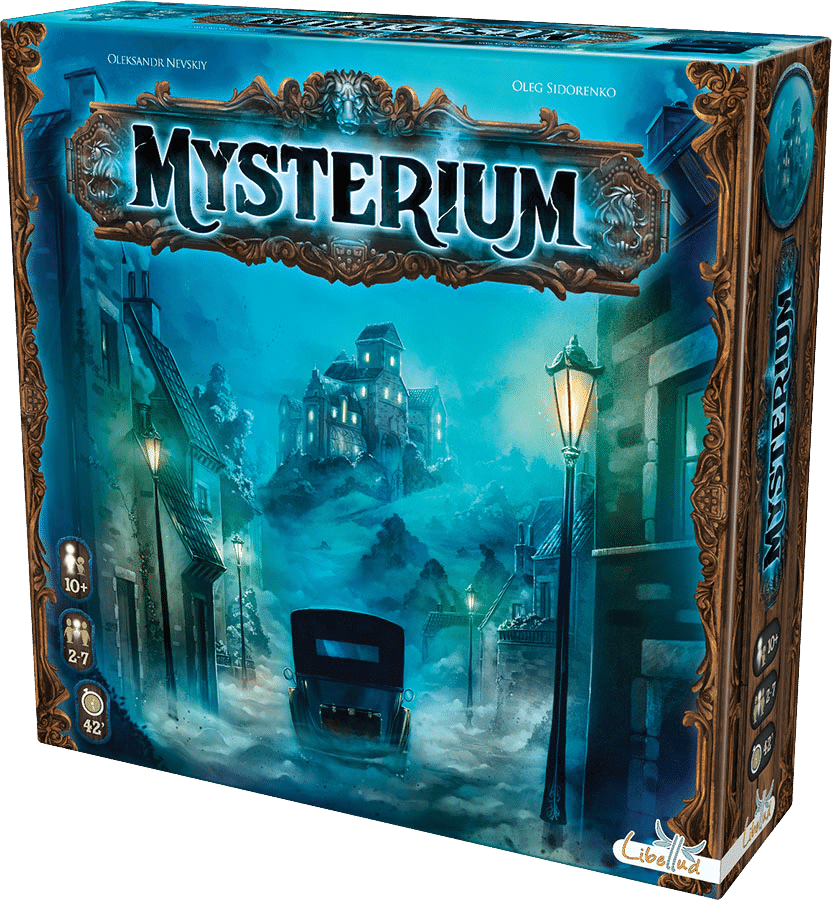 OUR REGULAR HOURS
Wed & Thu: NOON to 6:00p
Fri & Sat: NOON to 8:00p
RESERVATIONS @ OTHER TIMES
Call (541) 224-8114 or e-mail
librarian (at) conundrumhouse (dot) com
OUR ADDRESS
460 SW Madison Avenue
2nd Floor, Suite 16
Corvallis OR 97333
Enter on Madison Avenue, right next to Castor's Restaurant. Up the stairs, straight ahead, then right at the New York Central clock. Come all the way down the hall. You will find Conundrum House (an adventure of RemarkableArts) at the end of the hallway to the left.